The tutorial process in an AVID Elective class is different than "getting tutoring". In an AVID tutorial, students work together to share what they know and discover how to problem solve. It's purpose is to create deeper understanding of concepts covered in core content class and develop skills necessary to become self-directed learners.
These handouts will help you with AVID tutorials (due prior to class starting). Remember - Tutorials are generated from your homework. Use of the TOF is permitted, in lieu of a TRF, only one time per month and must be prepared in advance.
Powered by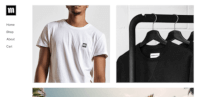 Create your own unique website with customizable templates.